Is your Time and Attendance Software ready to meet your needs for tomorrow?
Experience one of the most accurate and versatile web-based time and attendance software on the market. This application has been created to address the complex and evolving needs within your industry. Not only does it collect attendance data, but it allows for powerful reporting and configurability to fulfill virtually any business requirements. Features include employee and manager self-service (ESS and MSS) workflows, configurable business logic, mass edit capabilities, multi-level security, and rich data collection options.
Save time and money with our Time and Attendance Software
Are your labor costs out of control? Our time and attendance software can help you simplify time and job tracking, scheduling, time off management, and much more, all while improving employee productivity and controlling labor costs.
If you like what you see, you can schedule a demo to get a more expansive look at what our time and attendance software can do for you.
Keep administrators well informed
Easily keep everyone informed about how much time and labor each employee is awarding the company through our Time and Attendance Software. Reduce the time it takes to manually calculate and track your employees' time through our automated system. The Time and Labor Management module is a necessary application for monitoring a company's workforce effectively. Eliminating burdensome, paper-intensive processes will make labor management easier and more efficient. Save time, money, and frustrations by managing your labor with APlus Time and Attendance Software.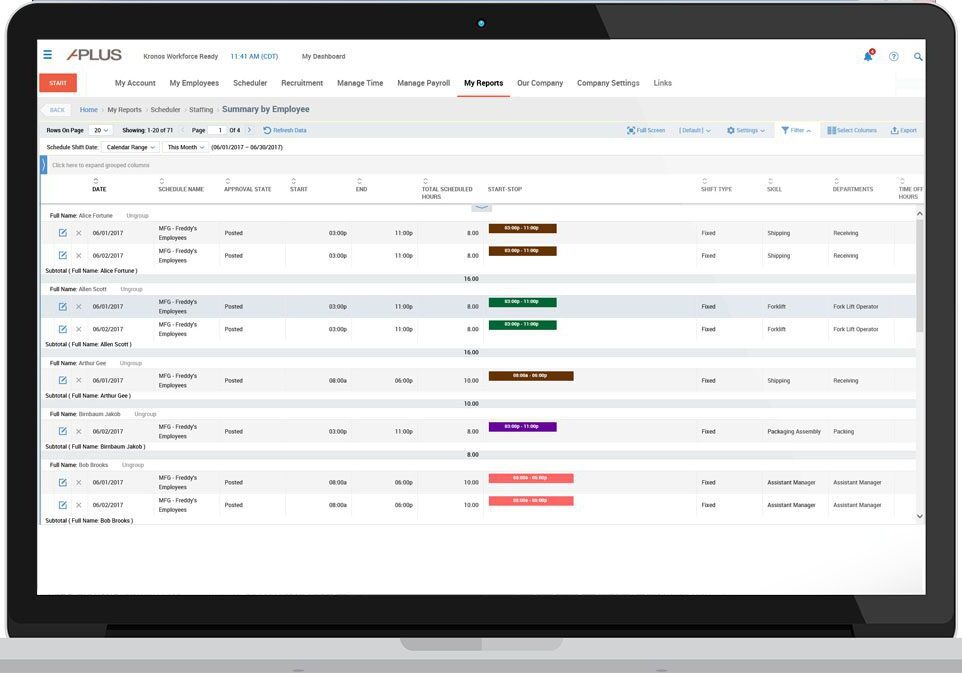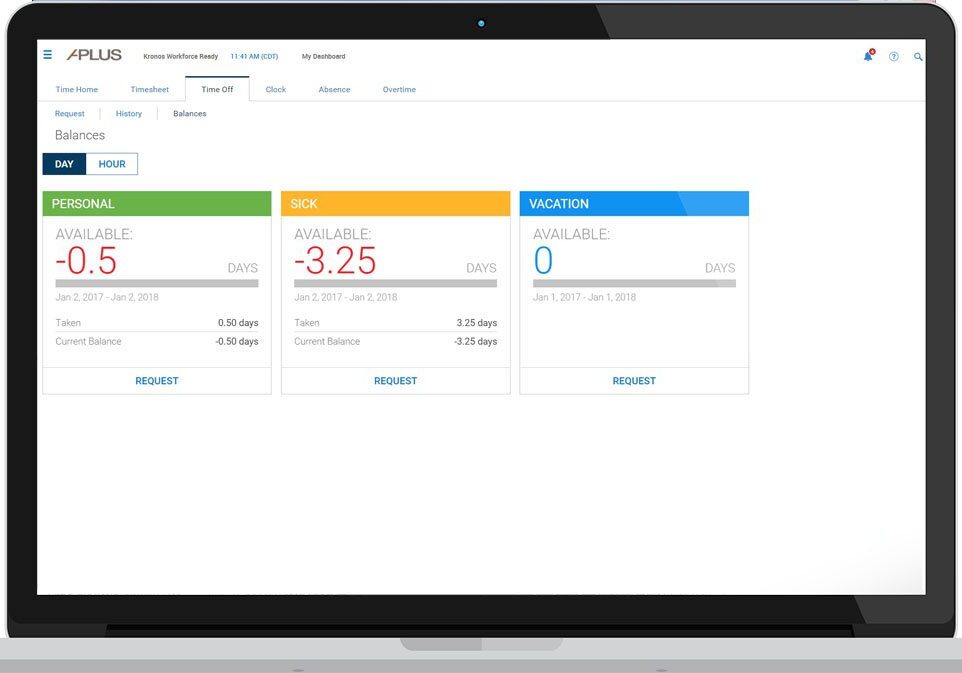 Manager/employee self-service tools help enforce leave policy tracking
Easily enforce absence-related policies, including federal, state, and organization regulations. The system makes it simple to confirm each employee's eligibility for paid and unpaid leave based on vacation, sick time, and other user-defined criteria. And managers are automatically notified when employees exceed established thresholds to help ensure compliance.
Real-time visibility for better exception management
Our Time Keeping software automatically flags exceptions such as missed punches, early/late arrivals, and extended or skipped breaks that violate your organization's policies and alerts managers. Complete automation eliminates timekeeping errors, while real-time calculations help maintain compliance and payroll accuracy.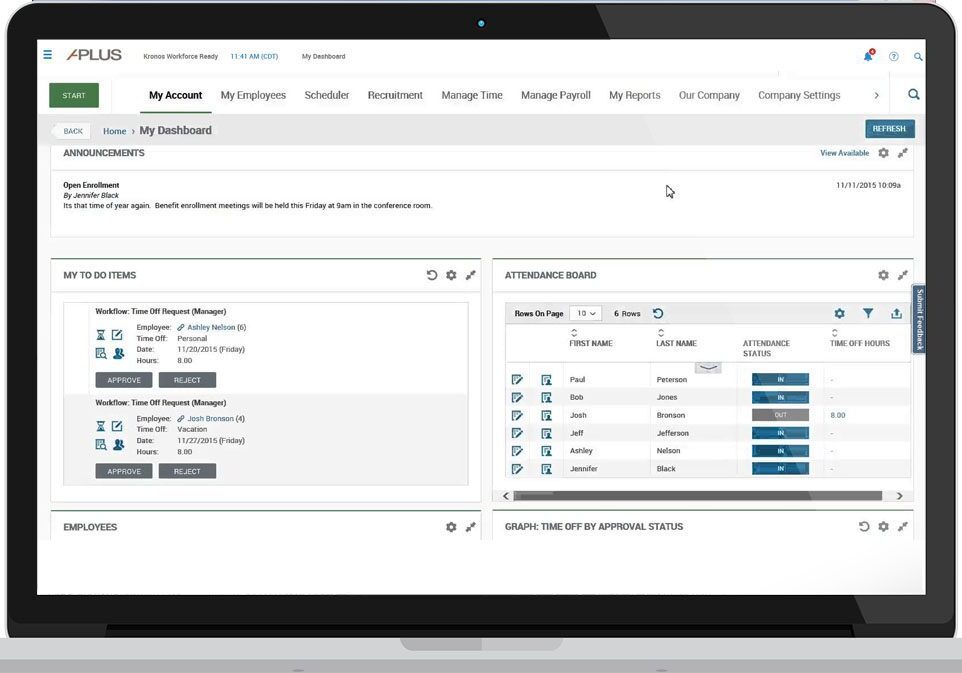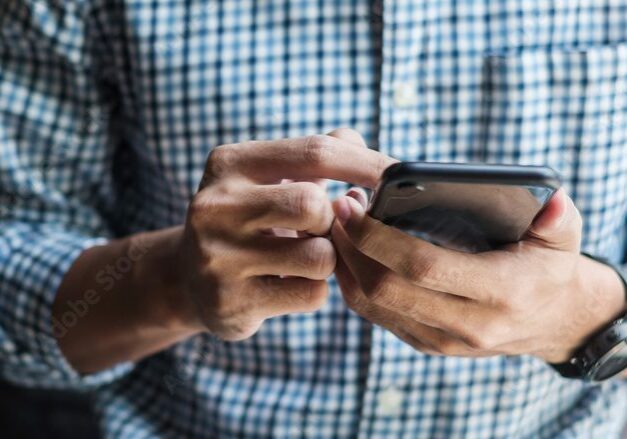 Multiple collection options support accurate labor data collection
Labor data is automatically captured from a wide range of collection sources, including the Kronos InTouch® time clock, web entry, telephony, and mobile applications.
An employee scheduling solution that aligns staffing requirements with budget and demand
Employee scheduling can be complex, time-consuming, and downright frustrating. Using spreadsheets and semi-automated systems to schedule a diverse workforce can result in being overstaffed, being shorthanded, excessive overtime, employee disengagement, and even compliance issues. With our Employee Scheduling Software you schedule the right person with the right skills in the right place at the right time without overspending your budget.
Employee scheduling tools to better manage your labor spend
Our employee scheduling software automatically generates best-fit schedules based on your organization's unique requirements helping you control labor costs, minimize compliance risk, improve productivity, and drive employee engagement. Automated workflows simplify creation of best-practice schedules that align staffing with budget and demand. Automatic enforcement of scheduling rules and policies helps avoid employee grievances and litigation. Managers and supervisors can finally spend less time building and managing schedules and more time focusing on strategic priorities that drive better business outcomes.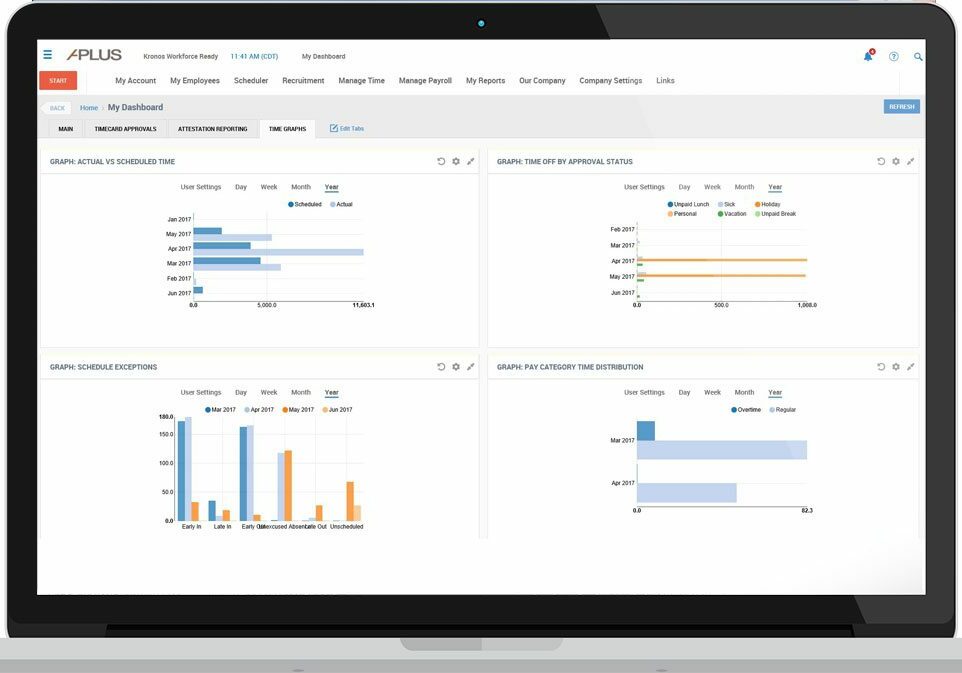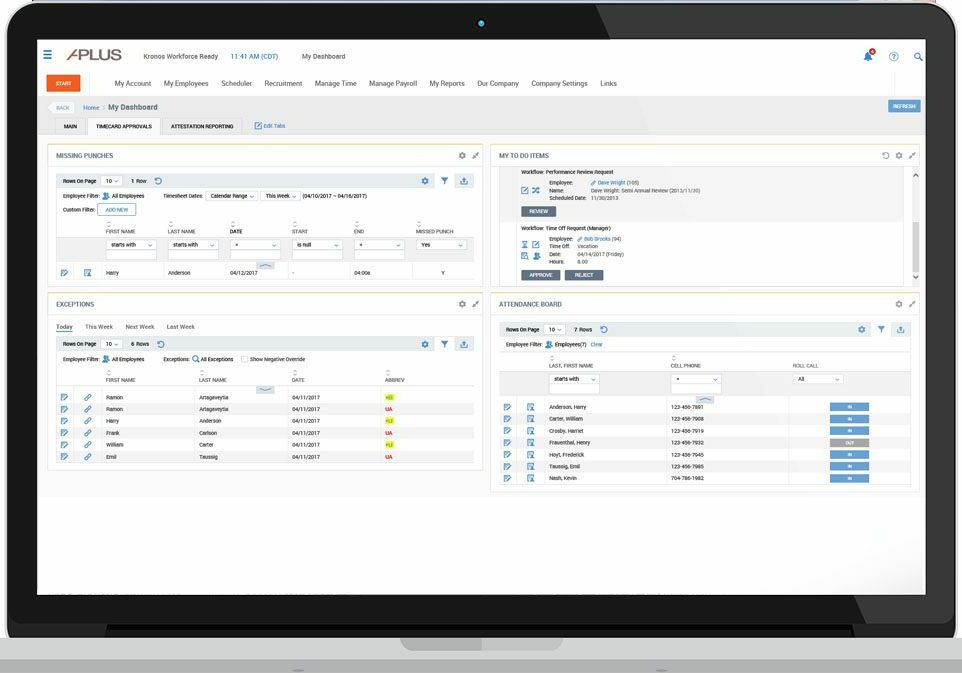 Build employee schedules that support compliance
You build the schedule and our software will automatically fill open shifts to maximize productivity and minimize compliance risk. The scheduling system automatically sorts through employees based on predefined criteria — availability, preference, skills, certifications, seniority, company policies, union rules, labor laws, and more - so you can assign the right person to each position. Of course you can choose to fill shifts manually also. Automatic notifications let you know when scheduling actions violate established rules, so you can make changes and maintain compliance.
Smart staffing decisions in real-time
Handle staffing changes to control labor costs without jeopardizing service levels or productivity thanks to real-time visibility. Fill an unplanned open shift without paying unnecessary overtime or hiring contract workers thanks to a prioritized call list of qualified workers based on availability, skill set and more, so you can fill shifts with the right person with the right skills in the right place at the right time.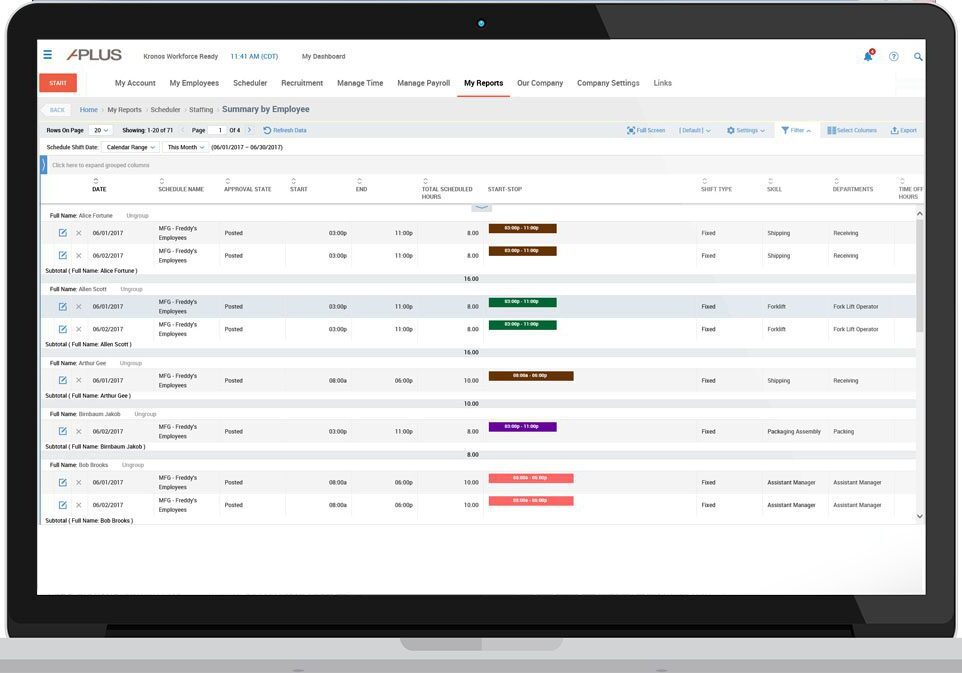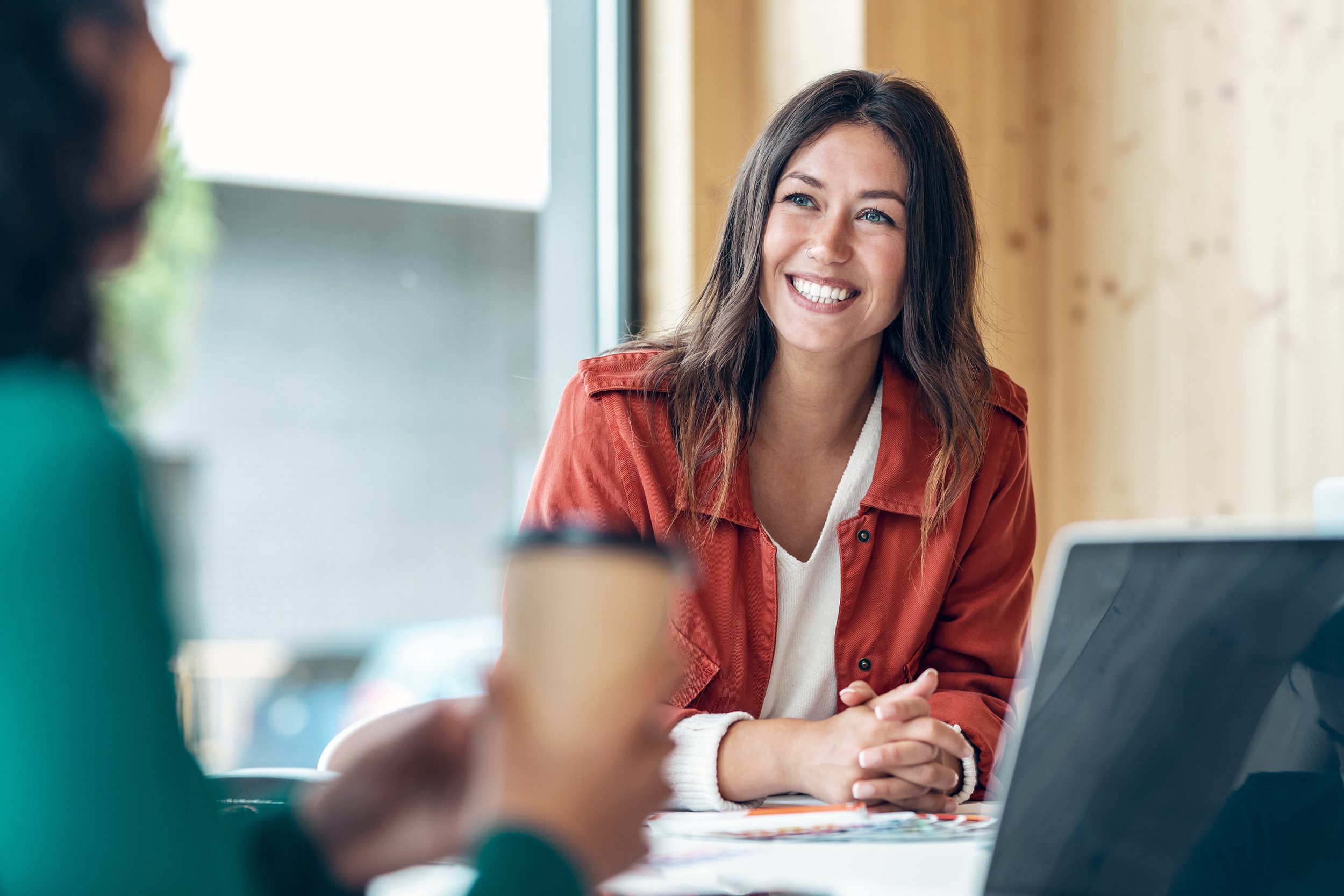 Entrust employees and boost their engagement
Empower employees with more control over their schedules to boost their engagement. Our employee scheduling software offers self-service tools allow employees to be more self-governing while making the scheduling process more clear. Employees can pick up open shifts — from their desktop or mobile device — based on their qualifications and receive email alerts when a new schedule is posted. Scheduling policies are automatically enforced to help ensure fair, equitable treatment of all employees. Scheduling rules configured and applied by managers help minimize employee fatigue and burnout while minimizing costly turnover.
Meeting all your time and attendance requirements in one system
Versatile Pay Rules Engine makes determining pay associated with regular and overtime hours a breeze.  Multiple scenarios can be supported, including location or cost center, shift differentials, order of importance, and more.
Flexible Accruals Management incorporates company requirements such as eligibility, tenure, and hours worked. Accruals can be synchronized with external payroll or HR systems. ESS/MSS approval workflow speeds up this process while reducing the occurrence of errors.
Powerful Rate Tracking on a global and/or personal level includes multipliers for special rate conditions and effective dating, which assesses the impact of changes prior to running payroll. Changes to rates can occur at any time during the pay period.
Dynamic Scheduling provides the ability to enter and change schedules on the fly whether they are based on a daily, weekly, or other recurring pattern. This flexible frame of reference allows employees to be assigned to schedules or vice versa.
Generate best-fit schedules
Schedule the right person with the right skills in the right place at the right time
Control Labor Costs
Make informed scheduling decisions that take into account budget constraints
Drive Employee Engagement
Give workers more control over their schedules via self-service
Minimize Compliance Risk
Automatically enforce scheduling policies, labor laws, and union rules
Real Clients. Real Success.

"We have been using Aplus Payroll for 5 1/2 years now. They are great to work with! If I can't figure out how to do something, they are a quick call or email away. They use Kronos Workforce Now and it is very user-friendly and easy to customize to my liking. We have multiple apartments and hotel locations that have to be tracked individually and the system allows for us to keep it organized the way we want it. The…
Rolling Oaks Hospitality, Inc.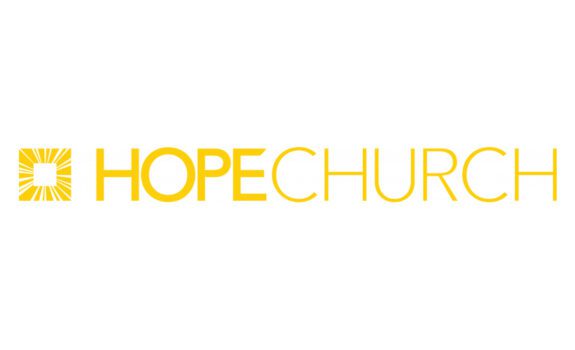 "I would absolutely tell you to contact APlus Payroll if you are in need of their services.  They are professional yet friendly,  knowledgeable, and very quick to respond.  We've been in a relationship with them since late 2015 and appreciate them so very much.  They keep us up to date with all the payroll and tax issues that develop and they've been indispensable during this COVID crisis keeping us abreast of all the different services and options available. You should…
Hope Church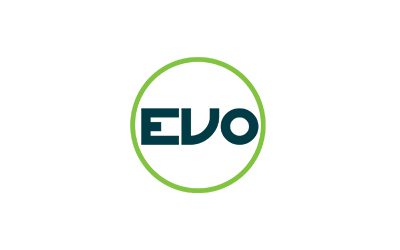 "APlus payroll has helped me as a Benefits Manager bring our company into the new century with Online Benefits Enrollment and the gals I work with, Nell, Jessica, and Penny, are amazing. I'd recommend APlus to anyone looking for a beautifully designed payroll software that can handle certified payroll, multi-level benefits profiles, and oh so much more."
EVO

"My organization was using APlus Payroll in 2011 when I started working for them.  Over the last nine years, this company has simplified my job duties with check writing, payroll reports, and filing tax documents.  I don't need to worry about tax deadlines or tax laws changing because they take care of everything.  Robyn is very knowledgeable in her field and goes the extra mile to accommodate our needs.  I highly recommend their payroll services."
Nova Center of the Ozarks
"Sunbelt has been working with APlus Payroll for four years now.  They have made our payroll process so much more efficient. In our business we are required to submit certified payroll reports on our jobs and APlus Payroll has made the process of compiling this information so much easier.  I appreciate the fact that they will enter our payroll when I am on vacation. Brian, Walker and Penny are so helpful and answer my questions immediately. I have never had…
Sunbelt Environmental