How Much Does It Cost To Use a Payroll Company?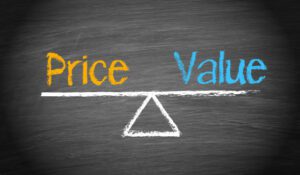 How much does it cost?
One of your most important responsibilities as a business owner is payroll. In addition to enhancing employee satisfaction, accurate payroll keeps you in compliance. Whether you run a small business with a few employees or a large enterprise with thousands of workers, payroll can quickly become complex as you grow, have workers in multiple states, and become subject to legislative requirements regarding payroll, HR, and benefits
Whatever day payday lands on, it's safe to say that it is the day the workforce looks forward to most as they rely heavily on their paychecks. A company's financial security and reputation are reflected in its ability to make sure the payroll process is on time and accurate. When paychecks are not made on time or errors occur, employees may lose trust in the company. The more accurate and timely paychecks are, the more engaged and motivated employees are.
Got it….But what's the price? 
Like all service businesses, prices vary based on many factors, but for basic payroll processing, the pricing is (or at least should be) pretty straightforward.
The cost of payroll service starts at $56.56 per payroll which includes your first 7 employees, plus $2.31 for each additional employee after that. A one-time setup fee is usually charged as well which covers accurately transferring your historical data as well as training.
What's Included?
Great question! When weighing up a choice in Payroll providers, please keep in mind that many services will be extra to your base fee. At APlus we like to be transparent and inclusive on our pricing and include many services that would normally be extra:
Payroll Processing
Direct Deposit
Employee self-service (Customized app)
Standard Payroll Reports (Printed and E-mailed)
Unlimited Customized Reports (Printed and E-mailed)
Tax Payments (941, FUI, SWH, SUI)
Liability for timely delivery of tax payments
Monthly and Quarterly Reports (1 State)
Quarterly and Year-End Processing (1 State- small fee for additional States)
HR Resource Center
Are there any other costs associated with running my Payroll?
These are optional (except W-2s), additional cost services associated with hiring and managing employees, and helpful year-end services.
New Hire Reporting 

Agency Checks (Garnishments etc.)

Annual Labor Law Poster w/ On-going Compliance 

W-2s and Electronic Filing 

Year-End Flash Drive 

SSN Verification

Time and Labor Module

HR Module

Time Clocks
Where can I get more information? (without a salesperson bombarding me for weeks)
To get started, schedule a demo here. Here's a preview of what you can expect:
We'll ask:

How do you currently manage payroll?

What do you like about your current systems?

What would you like to do better?




We'll then schedule a live demo with a member of our Customer Support team, who will show you how they make our platform successful for businesses like yours. 

You'll also receive a detailed proposal customized for your business including just what you need now.

We'll send

one

follow-up email to make sure you received the proposal and understood all it included. 

You'll let us know when you'd like to start or, if it's not for you, let us know why so we can be better in the future. 
Seriously, I won't be bothered by Salespeople trying to 'close' me?
No. We promise. We'd rather be 'Open' to a new relationship than 'Close' a sale.
Still have questions?
Schedule a demo to talk to a real person about how APlus Payroll can help your business.