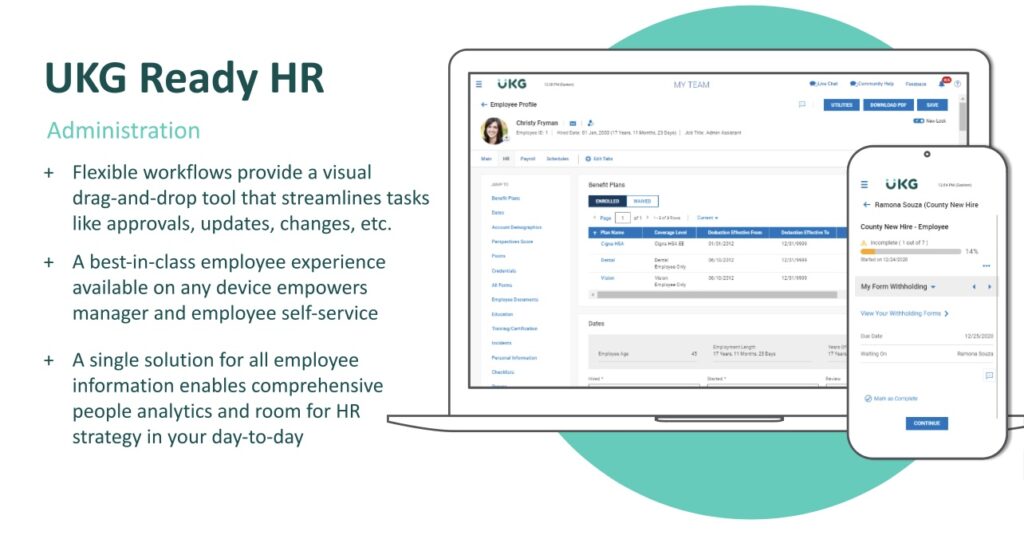 The Power of Efficient HR Management
Effective HR management is not just about hiring and firing. It includes employee onboarding, time and attendance tracking, payroll processing, benefits administration, and much more. These tasks, while crucial, can take up a significant amount of time and resources. With UKG Ready, supported by APlus Payroll,  businesses can streamline these processes, allowing HR teams to focus more on strategic initiatives rather than administrative tasks. What sets UKG apart is its adaptability. Whether you're a small business or a large corporation, it can be customized to fit your unique needs on both  desktop and mobile platforms. It's not just a software; it's a partner that grows with you, helping you achieve your HR objectives efficiently and effectively
Streamlining HR Functions with UKG Ready
Recruitment

: Track candidates, manage interviews, and onboard new hires seamlessly.

Onboarding

: Create a memorable first day for your new hires with automated welcome emails and task assignments, ensuring a smooth and engaging onboarding experience.

Payroll

: Bid goodbye to payroll errors. It calculates deductions, taxes, and benefits accurately, ensuring your employees are paid correctly and on time.

Time and Labor Management

: Keep track of employee hours, overtime, and leaves effortlessly.

Performance and Talent Management

: Nurture and grow your talent pool with performance management tools. Set goals, provide feedback, and track progress in real-time.

Employee Engagement

: Boost employee morale and productivity. Conduct surveys, recognize achievements, and promote a positive work culture.
Also, UKG Ready's robust reporting tools provide valuable insights into workforce trends, helping managers make data-driven decisions. For instance, by analyzing attendance data, managers can identify patterns and address potential issues before they escalate. Your APlus CSS can also help create custom reports for you as part of our included service.
Success Stories: The Proof is in the Pudding
A retail company reported a 20% reduction in administrative time after implementing UKG Ready. This allowed their HR team to spend more time on strategic initiatives, ultimately leading to improved employee satisfaction and retention. Another company, this time a  manufacturing firm, praised UKG Ready's reporting capabilities. The firm was able to identify trends in employee absenteeism and address them proactively, resulting in increased productivity.
If you'd like to sample how we can customize UKG Ready for your business, please contact us today
More Posts from APlus Payroll
Pay transparency refers to sharing information about pay with applicants, employees, and possibly the entire world. While some states...