Four Ways A Payroll Company Can Make Your Business More Efficient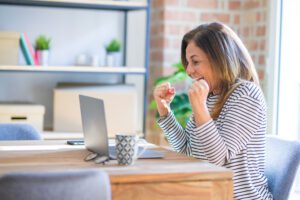 You might not work with a small business payroll provider because you think your business is too small to benefit. The reality is, even if you have only one employee, payroll providers can add value to your organization.
Many entrepreneurs associate business payroll providers only with payroll services. But payroll providers help across the spectrum of business functions.
Investing in payroll providers early ensures robust functioning of your business and helps you troubleshoot potential challenges.
Here are 4 ways payroll providers can help your business:
1. Payroll Services Help You Overcome Common Business Challenges
Even the best-run small businesses encounter challenges – they're part of the territory. But a well-run small business will plan for challenges, especially common ones, to prevent them from becoming problems.

Running payroll includes choosing among methods, such as cutting checks or direct deposit or ensuring that appropriate Federal, state, and local taxes are taken out of employee paychecks. These tasks aren't always easy and can erode the time of busy owners. Plus, hiring and supervising personnel to do these functions can actually be less time- and cost-effective than working with a third-party provider offering turnkey solutions.
Many small business owners also cite time management as a top challenge. Here, too, attempting to perform payroll functions yourself or hire and supervise an employee performing them is not as time effective as outsourcing your payroll services.
2. Payroll Services Help Your Company Be Flexible
We don't need to be reminded how quickly the economic climate can change, especially in the past few years. Businesses in some sectors, such as restaurants and travel, shuttered their doors. Others, engaged in the provision of essential services, needed to scale up rapidly to meet large spikes in demand. Payroll providers maximize your company's ability to be nimble at all times. If you need to rapidly scale up your number of employees, for example, you can add them to payroll seamlessly. If, on the other hand, your needs are to scale down effectively and rapidly, they can help you downsize payroll.
3. Payroll Providers Manage and Streamline Rules, Regulations and Services
Payroll and Human Resources Departments are often tasked with keeping abreast of payroll withholding and coverage rules and regulations that can be complicated. A payroll provider can manage all the rules, regulations, and services.

In most states, for example, workers' compensation insurance is required. It is just one requirement, along with the Federal Insurance Contributions Act (FICA) that covers Social Security, Medicare, and state unemployment insurance, that must be managed appropriately. Otherwise, your company can be subject to action and fines from the government.

Various regulations apply not only to required coverage and withholding but to employee benefits. If you provide your employees with retirement benefits, such as a 401(k) plan, errors can cost you. Employee salary deferrals must be deposited into their individual accounts within seven days of payroll. If your company misses this by just a day, the Internal Revenue Service (IRS) may audit your 401(k) plan. Payroll providers can ensure that these deposits will be made on time.
4. Payroll Providers Can Save You Fines and Fees
These fines can kick in for infractions such as failing to pay business income tax, FICA, and for late tax payments or underpayment. If your business is a corporation or a limited liability corporation adhering to corporate tax structure, these taxes apply even if you're the only employee of your business.
Fees and fines can also compound over time, potentially strapping your company of needed cash flow. But the fines are relatively easy to avoid, too. A payroll company will ensure your taxes are paid correctly and on time, saving you on penalties, fees, and fines.
Still have questions?
Schedule a demo to talk to a real person about how APlus Payroll can help your business.